Gigabyte Z68X UD5 B3 Review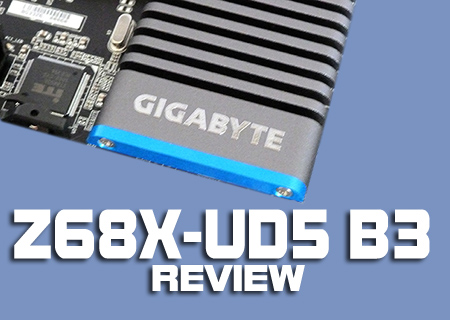 Up Close
The Z68X UD5 B3 definitely isn't short of technologies to highlight on the packaging. Not only is there the multitude of features that we all expect as standard these days such as SATA3, USB3.0, SLI/Crossfire support and the like, there is also the many Ultra Durable features that Gigabyte implement to ensure that your purchase stays working long-past the expected lifespan of LGA1155 product line.
The UD5 has all the hallmarks we've come to expect from Gigabyte boards. Excellent cooling courtesy of some gorgeous heat-sinks, a lovely subdued colour palette (in sharp contrast to the earlier Gigabyte days) and plentiful ports on the back for all your connectivity needs.

The Z68X UD5 has six SATA ports, four 3Gbp/s SATA2 and 2 6Gbp/s SATA3.
Down the PCI-E end of the board there are 3 PCI-E graphics sized ports, the topmost one is x16 when solo and x8 if the others are populated. Over by the DIMM sockets there is a power button, a Reset switch and a CMOS clear button.
Just to demonstrate our earlier feeling that this such an incremental update, here is the official press photos of the P67A UD5 next to the Z68X UD5. If they didn't have the model number painted on the board you wouldn't have a hope of telling them apart.