KFA2 GTX570 Review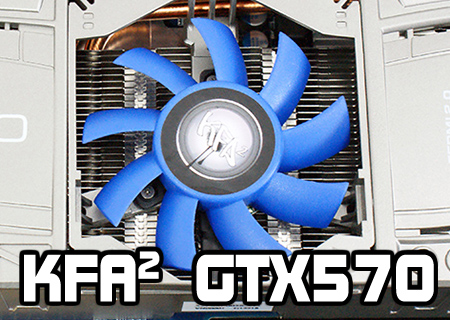 Introduction
It's no great secret that the GTX570 is our favourite graphics card here at OC3D. Although there are higher performing ones the combination of extremely usable performance and good pricing leave it at the top of our pile. It's close enough to a GTX580 that to get a serious leap in performance you have to move to the top-end HD6990 or GTX590 which are at least double the price.
So it's easy to imagine the interest we had in taking a look at the KFA² GTX570, one which comes with a unique cooler.
KFA² are the high-end arm of the Galaxy company who've been producing nVidia graphics cards for as long as we care to remember. Anyone who knows what the BFG stood for in Doom should be able to work out what the KFA stands for, and for those who don't let's just say that they are all out of gum.

Technical Specifications
Out of the box the KFA² GTX570 seems to be a fairly standard GTX570 design. Of course pure numbers don't tell all the story.
| | |
| --- | --- |
| Cores | 480 |
| Graphics Clock(MHz) | 732 |
| Processor Clock(MHz) | 1464 |
| Memory Clock(MHz) | 1900 |
| Memory Amount | 1280MB |
| Memory Interface | 320-bit |
| Memory Bandwidth(GB/Sec) | 152 |
| Texture Fill Rate(Bilion/Sec) | 41 |
Let's take a look at what makes this so different.