KFA2 GTX570 Review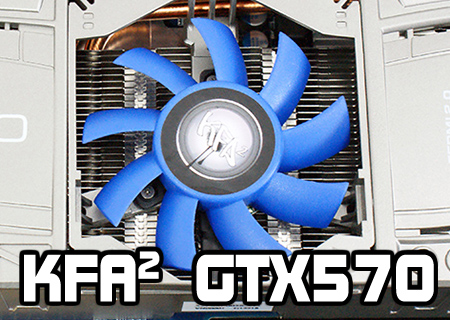 Up Close
The packaging is a nice combination between the fairly standard GeForce font and text, and the KFA² design which definitely has its roots in graffiti culture.
The card itself is gorgeous. The cooler is plastic, but looks like metal and certainly wouldn't look out of place in any near-future science fiction. In fact we reckon it could be just the thing to pull out as HAL slowly sings "Daisy". KFA² state that they use non-reference circuit boards along with non-reference coolers, and so it proves. It's hard to see a blue board without thinking of Sapphire, but it nicely matches the fan.
At the business ends of the card we find the usual GTX570 arrangement of twin DVI-D and a single HDMI output, with power provided by two PCIe 6-pin inputs.

The centre-piece is clearly the cooler and in a stroke of genius the fan can be lifted up. How many times have we tried to clean our graphics cards only to be either thwarted by immovable shields, or requiring the flexibility of a Russian Gymnast? Now a simple lift up and all the dust and fluff can be quickly removed. Brilliant.