PCSpecialist Cobalt Nova 14th Gen System Review
Conclusion

Conclusion
It's difficult to come away from the PCSpecialist Cobalt Nova anything other than hugely impressed.
Much of this is down to factors that are common amongst the many PCS systems we've reviewed over the years. They arrive in a very sturdy box, with plenty of packaging both inside and outside of the case ensuring that you have zero fears regarding it arriving in flawless condition. We're always pleased to receive all the extra mounting screws, brackets and cables as it means you could upgrade this system in the future without having to struggle to find an extra set of power cables or similar. When you take the Instapak protective foam out you're always impressed by the cable routing of the build. We've yet to see one with a single cable out of place, no matter which end of the price spectrum the system fits. PCSpecialist could be forgiven for paying extra-close attention to their premium priced models, but they always give the same effort even on the ones at the value side of things. At £1699 in review specification the PCSpecialist Cobalt Nova fits in the lower middle of their product range, but besides a slightly more affordable case and CPU cooler choice – both things you can customise/change when ordering – there isn't a bad choice here.

That careful component selection is something that is also a hallmark of the PCSpecialist experience. We know many pre-built systems that concentrate so hard on an attention-grabbing component they don't put that same care into the rest. Think a RTX 4090 with a regular SATA SSD. Or a Ryzen 9 7950X stuffed into a B650 motherboard. Obviously with the launch of the new Intel 14th Generation processors – here represented by the Core i5-14600K – it's easy to have your head turned by a 14 core CPU that can boost well past the 5 GHz mark. You could see how much better it was when compared to our Core i5-13600K, and that processor had the thermal headroom only a 360mm AIO can bring. Indeed if we were to suggest an upgrade to this particular specification we'd go for a better cooler to just unleash a little more at the top end. Otherwise it's a star of a processor and one of which Intel can be justly proud. We can't wait to see how their Core i7 and i9s perform. But this is being written a week before launch and so we don't know yet.
Otherwise the inclusion of the RTX 4070 also speaks to careful component choice. Strictly speaking this is a graphics card that is happiest at 1440P or 1080P, but we wrung its neck by pushing ray-traced 4K games through it and got over 60 FPS in every benchmark except the Riftbreaker intense one, which is more of a CPU test than anything. Although you've no guarantee which specific graphics card you'll receive we have to mention that the Palit Dual card in our review system was quiet even under the heaviest loadings. On my own rig 4K gaming has dogs whining and neighbours knocking, but this was whisper quiet.
If you've been saving hard for a new gaming PC within a reasonable budget then your patience has been well-rewarded, as the combination of the RTX 4070, Intel Core i5-14600K and the other components here – 5600 MHz DDR5 and a 2TB Gen 4 M.2 – bring a huge amount of performance to the table. That they perform that well in a system with the build quality and reassuring warranty provided by PCSpecialist is just the icing on the cake. Unquestionably the PCSpecialist Cobalt Nova wins our OC3D Gamers Choice Award.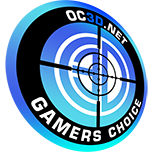 Discuss the PCSpecialist Cobalt Nova in our OC3D Forums.