PCSpecialist Cobalt Nova 14th Gen System Review
Clock and Drive Speeds

Clock Speeds
One of the key elements in this latest 14th Generation of Intel processors is how calm they are when you're not really pushing the boat out. The 120mm air cooler supplied in the Cobalt Nova is just enough to let the i5-14600K do its thing, although as you'll see later on you're not left with much thermal headroom to take things further. When you're just browsing on the desktop the processor declocks really low to help be more energy efficient. Still, 5.25 GHz boost on air is enough to get some good scores, and we're sure with a beefier cooling solution this could go into the stratosphere.

If you're used to the Efficient Cores going much slower than the Performance Cores, you'll enjoy this. (its just a glitch in HWmonitor)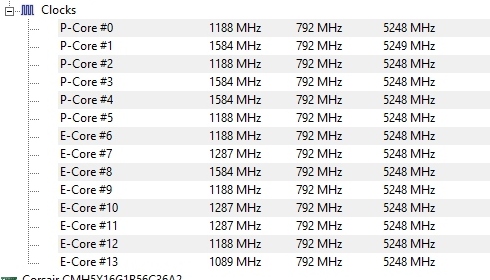 For those of you who like the extra information here are the memory timings that the PCSpecialist Cobalt Nova is supplied with, as well as a look at the, now familiar, RTX 4070 speeds.
Drive Speed
We'd be lying if we said that the Solidigm P41+ G4 M.2 was the first NVMe drive we thought of when considering a 2TB OS drive, but you can see that it's plenty quick enough to ensure you're not left waiting for the data to stream.