XFX 9800 GTX Black Edition 512mb
Introduction
A little while ago we looked at the
9800 GTX
and although results were good and undoubtedly the single card performance was solid, it just didn't blast away the older cards.
This time we're looking at XFX's big bad 'Black Edition' 9800 GTX. Clocked to the max with a bundle that most gamers would jump at, the Black Edition is XFX's new Top End range 9800 GTX.

A bit of info about XFX:
XFX dares to go where the competition would like to, but can't. That's because, at XFX, we don't just create great digital video components–we build all-out, mind-blowing, performance crushing, competition-obliterating video cards and motherboards. Oh, and not only are they amazing, you don't have to live on dry noodles and peanut butter to afford them.
XFX is a division of PINE Technologies, a leading manufacturer of state-of-the-art processing components.
XFX are one of Nvidia's leading OEM's and as such seem to get clock speeds that are bordering on what your average overclocker gets.
The specification of the card speaks for itself:
Dual Link DVI – Supporting digital output up to 2560×1600
Yes (Dual)
Shader Clock
1900 MHz
Clock rate
760 MHz
Memory Clock
2.28 GHz
Game Bundle
PV-T98F-YDB9 w/ Assassin's Creed
Chipset
GeForce 9800 GTX
Memory
512 MB
Bus Type
PCI-E 2.0
Memory Type
DDR3
Memory Bus
256-bit
Output
HDMI w/ HDMI upgrade kit (included)
Highlighted Features
SLI ready , Vista , HDTV ready , Dual DVI Out , RoHS , HDCP Ready
More info and extra specs can be found
here
 I just wanted to highlight that XFX's Black Edition GPU's are hand picked from it's XXX Edition GPU's and hot and cold chamber tested to give the customer 100% stability when it arrives at their door. In addition to this, XFX have said:
all customers will receive priority Live help support when registering the product and we have ensured our system allows for priority action on any customer requests.
Obviously this adds to XFX's manufacturing costs, but XFX have said this is something they wanted to give their loyal customers who go out and buy their top end GPU's. 
Packaging
XFX have gone for some (surprisingly!), black packaging to put their Black Edition in. The packaging looks nice and the lettering of "Black Edition" is only visible at certain angles which should give it some shelf-cred.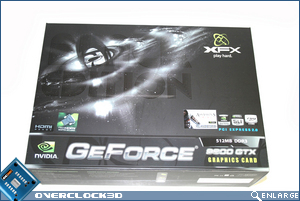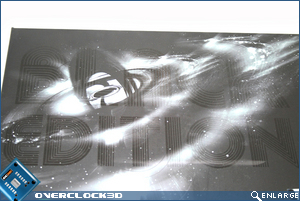 Inside the box is well packaged as you would expect from XFX, top quality stuff.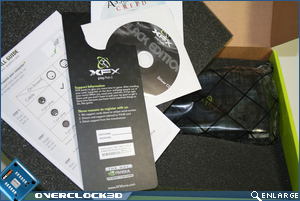 Bundle
As I have said previously, XFX have put together a very nice bundle for the Black Edition. We have:
* Quick Install Guide
* Hint and Tips Booklet
* S-Video Guide
* "Don't disturb me I'm gaming" door card
* Driver CD
* Assiassins Creed Full Game
* 1 x S-Video to Component Cable
* 1 x DVI to HDMI adaptor
* 2 x DVI to VGA adaptors
* 2 x Dual Molex to PCI-e Power
* 1 x S-Video to S-Video cable
* Motherboard/Sound card cable for HDMI sound pass-through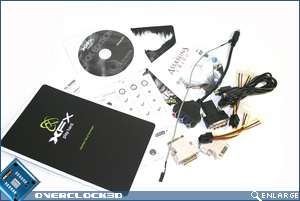 The bundle is quite frankly, awesome and Assassins Creed will certainly attract those buyers wanting an AAA title in with their top end card.
XFX have said that as an update on the bundle, they have exclusively given SCAN an exclusive deal. You would also get:
Includes XFX Gamers Bundle Exclusive to SCAN Only,
• Assassins creed.
• Assassins creed book
• XFX TShirt
• XFX Key Ring..