XFX 9800 GTX Black Edition 512mb
XFX 9800 GTX Black Edition Close up
Â
XFX have gone for the stock cooler for the 9800 GTX Black Edition so it's not going to be a whole lot different from Asus's card in
our previous review
. They have changed the sticker on it which looks pretty funky.
Â
It's what lies under the bonnet that XFX have really changed, but it is worth mentioning that XFX test every overclocked card in a warm air chamber to ensure that it is 100% stable when it gets to the customer.
Â
Â
The sticker looks a little more subtle in the flesh, with the words Black Edition almost like a hologram.
Â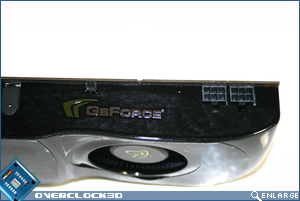 Â
I think XFX have missed a trick here and we could have seen a nice custom logo for the side of your case instead of the generic GeForce logo.
Â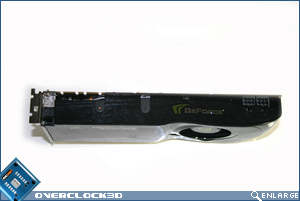 Â
Again following the stock design, which is not always a bad thing. Triple SLI should be pretty good cooling-wise on this card.
Â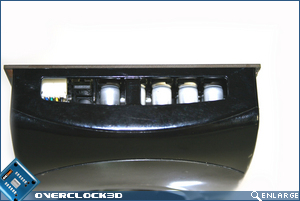 Â
As we have seen on previous Nvidia cards, the capacitors are all top quality Japanese solid caps which should make for a very stable card.
Â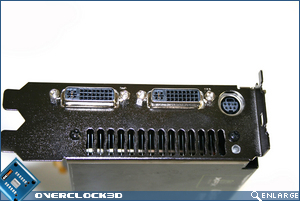 Â
Two Dual-Link HDCP enabled DVI ports abound the end of the 9800 GTX Black Edition as you would expect. XFX have also included a DVI to HDMI converter for your HDTV. An S-Video TV-out connector is also included as an output.
Â
Â
The Cooler
Â
Again, there's not a whole lot to say about the cooler on the XFX 9800 GTX Black Edition as it is the stock cooler from Nvidia. In addition, it's boiling hot in the UK at the moment so Ambient room temperature was a fairly warm 28°C.
Â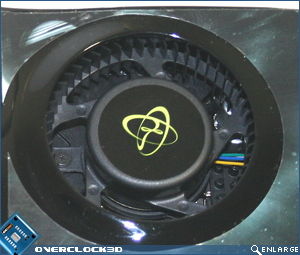 Â
Having said all this, it's clear XFX have pushed the card a little more than the stock speeds (understatement!), as it runs at 60°C idle and 71°C load. The fan is pretty good and I never noticed too much noise, despite the card sitting right next to me on a bench table.