XFX 9800 GTX Black Edition 512mb
Unreal Tournament 3
I have included UT3, even though it is another UE3 game as it is a fast, frantic and furious multi player mash-up experience. Using advanced DirectX 9.0c features, the Unreal Engine looks fantastic and runs on almost all half-decent modern GPU's making it an ideal all-round test.
Â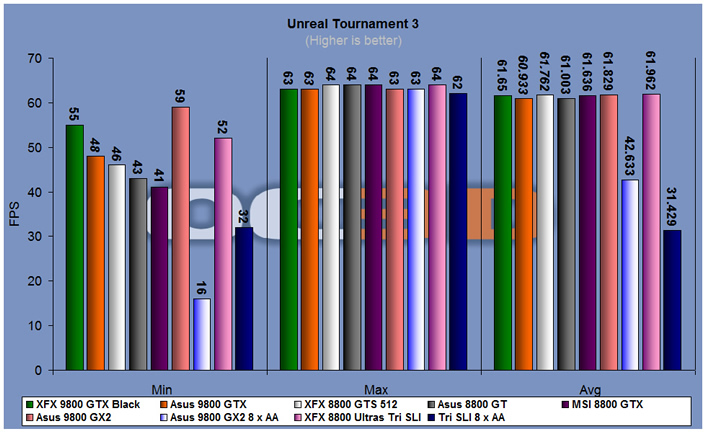 Â
The XFX 9800 GTX Black Edition performed very nicely again in UT3, although I think all of the cards here can quite easily cope with that engine right now.
Â
Crysis
Crysis has to be our most challenging benchmark to date. Running under Windows Vista and using DirectX 10 path, the single GPU cards are running at 1680 x 1050 with "High" set in-game. The multi GPU setups are all set at 1920 x 1200, on both "high" and "Very High" in game.
Â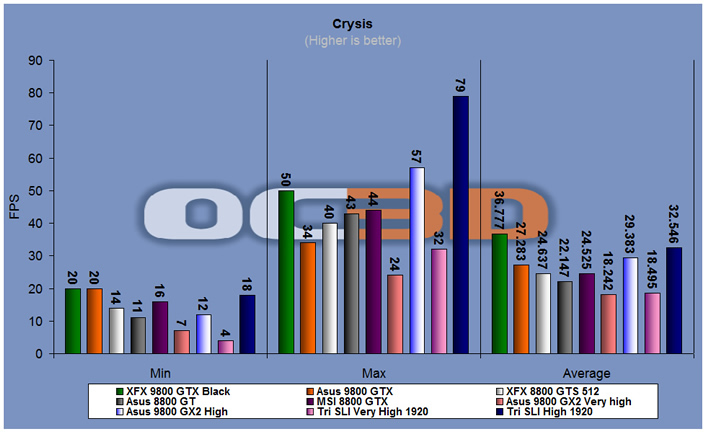 Â
Crysis was definitely the most marked improvement for the 9800 GTX Black Edition. The average FPS was superior to the other cards tested and it definately a more enjoyable experience playing the game with the new XFX card.