F1 23 PC Performance Review and Optimisation Guide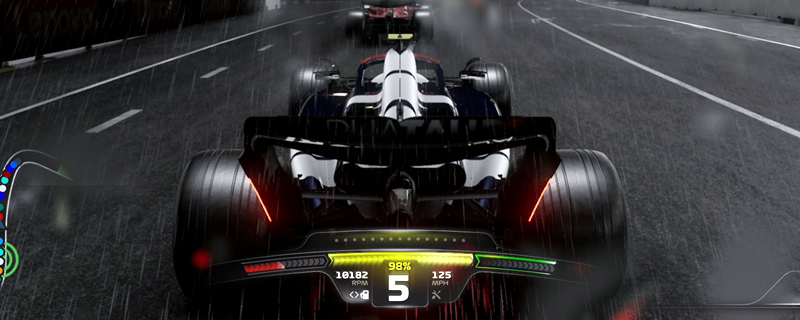 Another well optimised PC release from Codemasters
Codemasters' F1 series has long been a favourite here at OC3D. It is no secret that we are fans of racing games, and in a year that has been filled with shoddy PC releases, it is refreshing to see the technological competence of Codemasters at work.
If you are the kind of PC gamer that sets everything to ultra and then complains if your PC fails to run a game at 4K 120 FPS, you will not like F1 23. When maxed out, F1 23 is a demanding title, with only Nvidia's GeForce RTX 4090 achieving 60+ FPS framerates within the game's demanding Singapore (Wet) track at native 4K Ultra settings. That said, gamers who are willing to use upscalers like DLSS and FSR, or are willing to lower a few graphical options will find that F1 23 is a well optimised PC game that can run well on a huge range of hardware configurations.Â
Unlike most PC games, F1 23's Ultra graphical preset includes ray tracing on supported hardware, settings that have a huge impact on the game's performance on PC. F1 23 can make heavy use of ray tracing on PC, and simply turning off this game's ray tracing options can deliver a greater than 2x performance gains on Nvidia hardware, and even larger gains on AMD hardware.Â

At 4K High settings, GPUs like AMD's RX 6700 XT and Nvidia's RTX 3070 can deliver average framerates of above 60 FPS, and with DLSS or FSR, much lower-end graphics cards can achieve faux-F 60+ FPS framerates on PC. If you have higher-end GPUs and a VRR compatible 4K display, you will be able to enjoy framerates far in excess of 60 FPS at 4K on PC. If you are willing to disable ray tracing on PC, most PC gamers will have an excellent experience playing F1 23.
CPU-wise, F1 23 is not a taxing game, and scaling our DDR5-6000 memory down to DDR5-4800 speeds saw no real performance decreases in this game. With ray tracing enabled, our Intel i9-13900K was easily able to keep this game above 100 FPS at 1080p with powerful enough graphics cards at Ultra settings, and with ray tracing off 200+ FPS framerates were possible. This game is not hugely demanding on CPUs, and with the right graphical settings, it can also run well on low-end graphics cards.
When looking at DLSS and FSR, it is clear to us that DLSS delivers higher quality results. We noticed some ghosting issues with FSR that we did not see with DLSS. Both FSR 2 and DLSS deliver better visual results than they did in F1 22, but DLSS delivers the best overall results, at least in our opinion. Ghosting on tyres is very noticeable in a F1 game, and we hope that AMD and Codemasters can work to address this problem with a future game update or an improvement to AMDs FSR technology (Come on AMD, we want to see FSR 3!).
While F1 23 has an option for Nvidia's RTX 40 series exclusive Shader Execution Reordering (SER) feature, this feature currently appears to do nothing on to improve the game's performance on PC. Hopefully this feature will deliver notable performance gains with future updates, as we already know that RTX 40 series users will be getting some love with a planned DLSS 3 update for F1 23, which will add both DLSS Frame Generation and Nvidia Reflex to the game.Â
Overall, F1 23 is a racing game that run well on PC and can be played with solid framerates on a huge range of PC hardware configurations. F1 23 is a hugely scalable PC game, and Codemasters has continued their legacy of creating solid F1 games for PC. The only thing that we disliked about this PC release is EA's DRM, which frequently locked us out of F1 23 after making hardware changes to our PC. This delayed the release of this performance analysis, and is making us reconsider the testing of any future EA games on this website. EA's DRM is an insult yo paying customers, and it prevents the timely analysis of their PC releases. Neither is good for PC gamers, and EA should reconsider its DRM policies.Â
You can join the discussion on F1 23's PC version on the OC3D Forums.