Alan Wake 2 PC Performance Review and Optimisation Guide
1080p Performance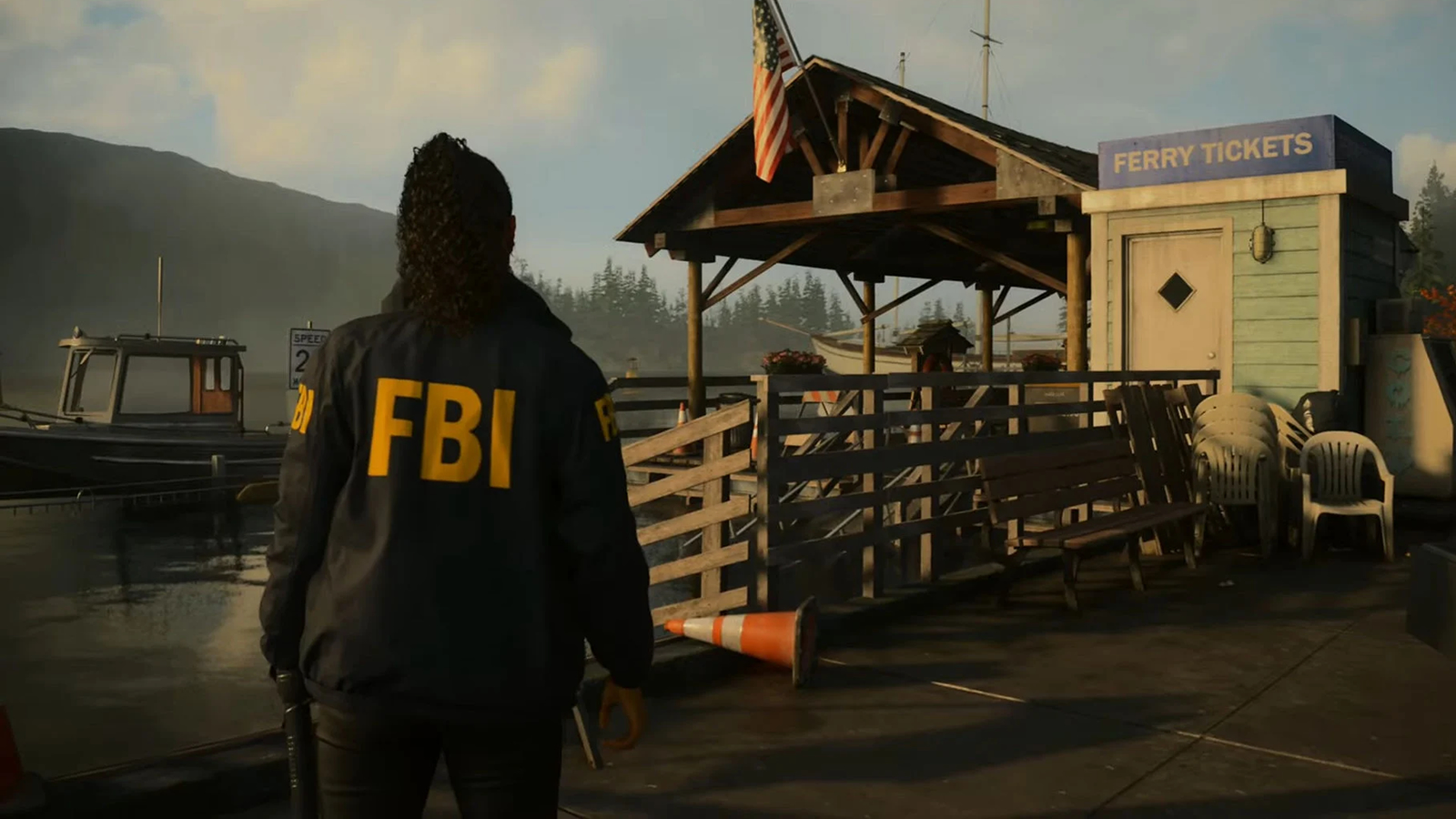 1080p Performance
Here at OC3D, we're not the kind of website that tests everything "maxed out" just for the sake of it. Alan Wake 2 is a complex game, and we feel that it deserves a closer look and a lot of in-depth testing. As such, we have tested the game using three performance profiles and at resolutions of 1080p, 1440p, and 4K. This was very time consuming, so we hope your appreciate the effort.
Our first profile is the game's Medium preset without ray tracing and with DLSS/FSR 2 set to quality mode. These are the settings we expect most PC gamers to use, as Alan Wake 2 is a demanding PC game, and this game looks very good at Medium settings. Honestly, they should have called Medium High and High Ultra.
At 1080p, even Medium settings with DLSS/FSR enabled can deliver sub-60FPS performance levels on many graphics cards. Alan Wake 2 is a demanding PC game, and even consoles like Sony's PlayStation 5 and Microsoft's Xbox Series X use settings that are below the game's medium PC preset. Users of lower-end GPUs will either need to use lower graphical settings, or make heavier use of DLSS or FSR super sampling to achieve 60 FPS framerates. Either that or they need to upgrade their graphics card.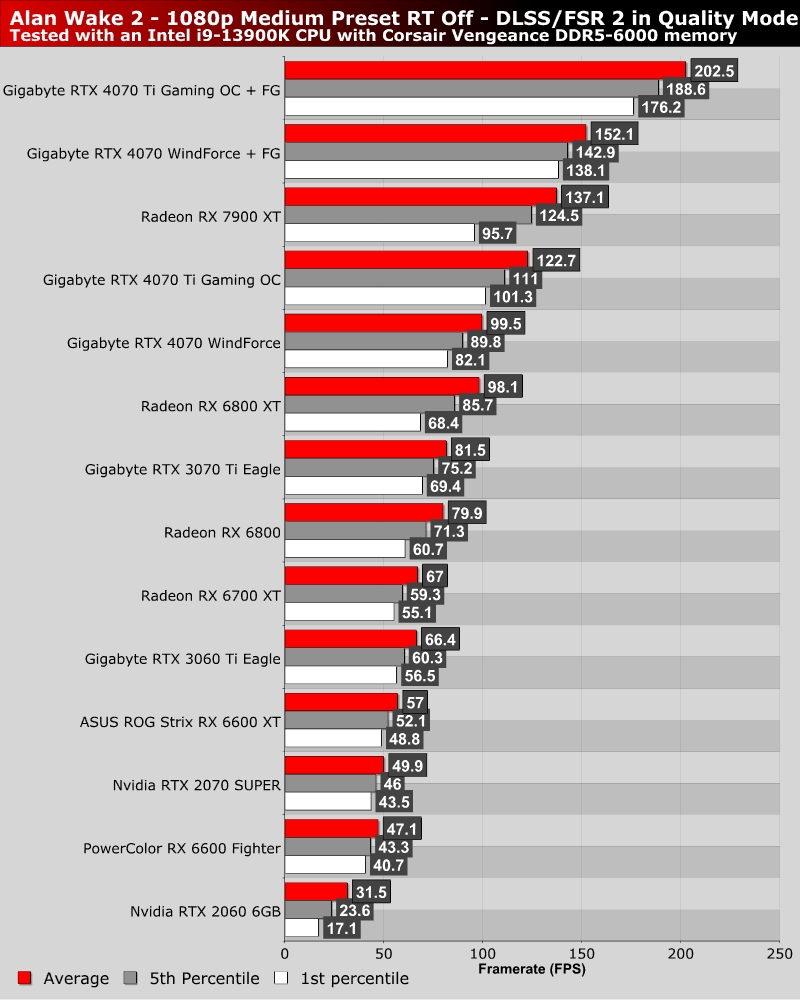 1080p High
At 1080p high settings, even GPUs like Nvidia's RTX 4070 and AMD's RX 6800 XT are unable to achieve 60+ FPS framerates. Alan Wake 2 is a demanding game, and it is easy to see why Nvidia are marketing DLSS Frame Generation heavily with this game release.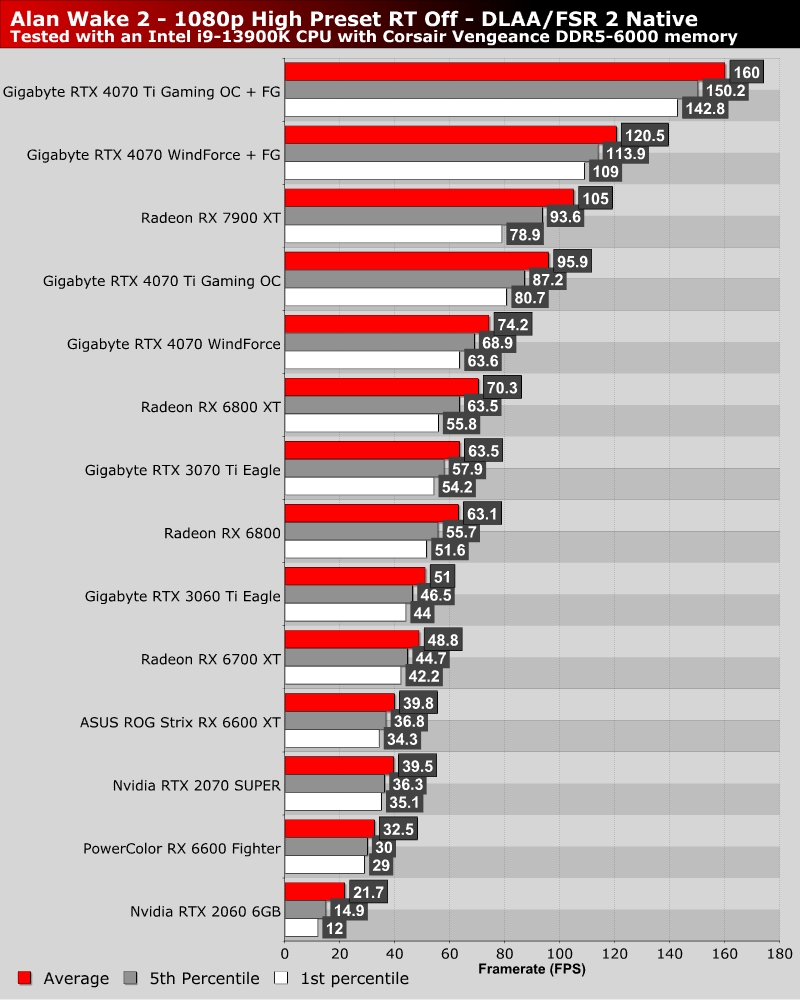 1080p High with High Ray Tracing
With ray tracing enabled, most graphics cards deliver terrible performance. We wouldn't recommend DLSS' (or FSR's) performance mode when using such a low output resolution, but for Alan Wake 2 even these modes can deliver poor framerates. Alan Wake 2's ray tracing mode is designed for Nvidia's highest-end GPUs, and future generations of graphics cards.